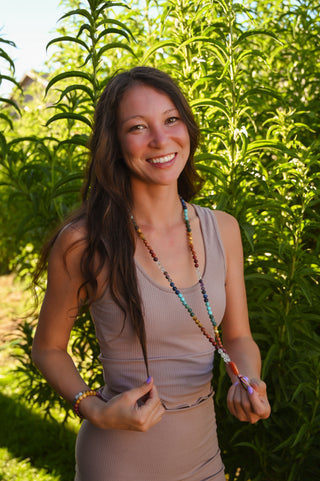 Founder and Creative DIrector
Lynnea Tai
DarcMoon creates Malas and gemstone jewelry, guided by the creative spirit of owner and artist, Lynnea.
The name DarcMoon originated during Lynnea's travels, inspired by street art tags, and has since become a symbol of her unique and adventurous approach to life.
Since 2016, Lynnea has been passionately hand-tying Malas and sharing the art form through her jewelry-making workshops. She resides in Grand Junction, Colorado and channels the high desert's vibrant outdoor energy into each high-quality creation.
Beyond making beautiful jewelry, Lynnea loves collaborating with local businesses, makers and artists, and hosting a diverse range of creative experiences. Lynnea truly cherishes the connections and relationships forged through her jewelry.
Whether you explore her online shop, collaborate on a custom Mala, or attend one of her workshops or pop-ups, DarcMoon invites you to become part of a community where creativity, adventure, and intention converge.
Read more about the DarcMoon story below
Meet the team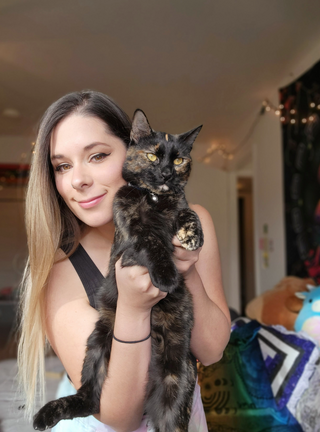 Studio Assistant
Lessie
Lessie is a creative at heart with a background in various artistic mediums, including painting, drawing, sculpting, and beading. After she discovered gemstone jewelry, she attended one of DarcMoon's workshops. She fell in love with the process of making Malas, and has since become an indispensable member of the team.
Besides working with her hands, Lessie has many interests including videos games, electronic music festivals and her pets. She loves being part of a small business and pursuing her own creative dreams. 
In her role at DarcMoon, Lessie contributes to all studio-related tasks, from tying Malas to photographing them and ensuring orders are perfectly packed. Her passion for creativity and dedication to the craft make her an integral part of the DarcMoon family.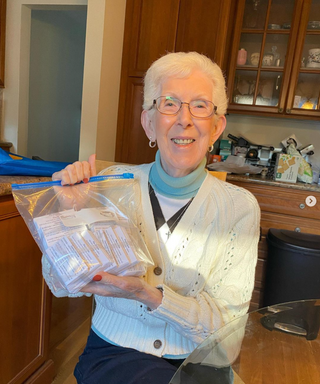 Packaging & Care Specialist
Patricia
Patricia, Lynnea's grandmother, takes charge of preparing the three description cards accompanying every Mala – "What Is A Mala?", "Why 108?", and "Care Instructions."
Patricia handles the printing, cutting, and even personally hand sands the edges of these cards, adding an extra touch of care and attention. Yes, you read it correctly – she meticulously hand sands each edge.
Grandma Patricia's dedication is evident, and DarcMoon greatly appreciates her commitment. With a quality, effort, and love rating of 15/10, we are so privileged to have her on the team. 🥰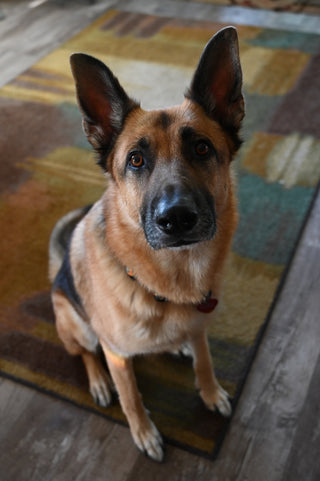 A&A Coordinator
Roam
Meet Roam, the incredibly handsome German Shepherd and the lead Adventures & Activities Coordinator at DarcMoon.
Roam ensures that his mom gets outdoors every day, not just for inspiration but also to remind her that they are living life exactly as it's meant to be. Besides putting his kisses and love into every piece while his mom creates, Roam also has an exceptional talent for finding any leftover beads.
He wants to extend a heartfelt thanks to you all for supporting DarcMoon and believing in their dream!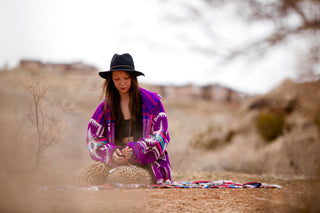 The DarcMoon Story
Making connections one bead at a time
Raised by a dad from Hong Kong and a mom from Canada, I always sensed that there were more traditional expectations of what I might be when I grew up. However, I thought of myself as the slightly weird and quirky "black sheep" of the family who was destined for a different path.
My love for creativity and fashion sparked my academic pursuit, and I earned degrees in Apparel Merchandising and Business Marketing from Colorado State. Even with my studies, I had no clarity about my life's trajectory. In search of answers, I decided to explore the world, embarking on a backpacking adventure through Europe and a solo trip through Asia. These experiences not only ignited my passion for travel but also revealed the vision for the business I wanted to create.
Everywhere that I went at that time was an inspiration for what would soon become DarcMoon. In fact, the name of my business originated from that time of travel and exploration. During our trip through Europe, my friend, Emily, and I created the 'DARC' tag, which is a street art phrase or image that's unique to one artist and used to let other people know "I was here."
All of my world travels had lead me to a confluence of inspiration and action. I took the leap into becoming a full-time working artist in 2016, after both discovering the Mala making process through a workshop, and then serendipitously meeting my bead supplier, Sarita, in quick succession.
Since I started DarcMoon, I've been on a journey where gemstones, art, community, and adventure seamlessly intertwine. DarcMoon is not just a brand; it's a reflection of my love for the craft, the road, and the boundless inspiration they provide. 
The name DarcMoon encapsulates my affinity for finding light in the dark, exploring the unknown, and following my own path—an ethos that defines both my life and creations.
A heartfelt Thank You for joining me on this incredible journey with DarcMoon. Together, we're creating connections with every piece. Here's to the next adventure!